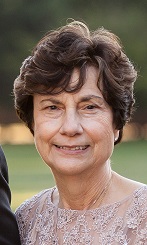 HWBA Board of Directors 2022-2024
Pamela B. Houlares
Past President
Board Member 2006 – Present
Growing up in Boston as part of a large, extended Greek family,  Pam went on to complete her bachelor's degree at the University of Massachusetts and her Masters of Education at Boston University.  In the field of education for 37 years, she began as a teacher, progressing through leadership positions until finally serving as Principal of the Jonas Clarke Middle School, Lexington, MA.
In her retirement,  Pam taught as an Adjunct Professor, American International College, an Educational Leadership and Administration course instructor, as well as graduate student supervisor in the Simmons College Educational Leadership Program.
A member of HWBA since 2006, Pam was President from 2016 – 2020.  A member of St. Mark of Ephesus Orthodox Church in Westwood, Pam is a Sunday School Director and teacher, and involved in Philoptochos activities.  She tutors Spanish in Natick and surrounding communities.
She is a proud mother of two and grandmother of four.